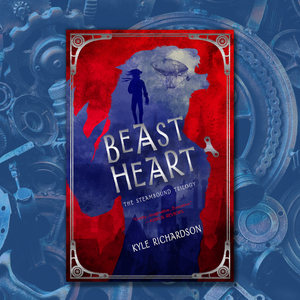 Meerkat Press
Beast Heart by Kyle Richardson
Regular price
$15.95
$0.00
Unit price
per
When the girl with the clockwork hand meets the boy with the beast heart, sparks fly in this poignant, adventure-filled debut.
Book 1 of the Steambound Trilogy. When Gabby's hand turns to steam, her mom hires an engineer to build her a clockwork glove. It's the last thing Gabby wants—if only she could be normal. But when her mom is attacked by something monstrous, normal is no longer an option. Now the only person she can turn to is a grizzled detective, who promises to help her become something … more.
Meanwhile, Kemple's foster dad treats him like a slave. And the beatings are getting worse. So when a rebellious girl named Josephyn arrives—with a plan to escape to the city—he doesn't hesitate. But there are creatures in Iron Bay whose slashes are worse than skin-deep. And as Kemple evolves into something inhuman, his search for a cure begins.
They are strangers in a city where carriages rattle, airships rumble, and where their own dark pasts continue to haunt them. Soon their paths will collide, and the girl who slays monsters will come face to face with the boy who is becoming a beast.
Genre: YA | Steampunk | Fantasy
Paperback | 6x9 | 244pp
ISBN: 978-1-946154-35-4 (Print)
ISBN: 978-1-946154-36-1 (Ebook)
---